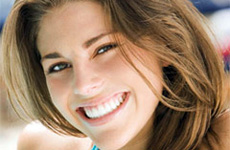 Need an appointment?
Call Now
(805) 928-0340
Or click the button below

Central Coast Smile Dentistry Krikor Derbabian, DDS

Easy financing
we offer dental services
and easy financial arrangments

How to Choose an Implant Dentist
Selecting the right dental implant dentist can make the difference between a successful or failed dental implant. It can also determine the fate of your teeth and gums, since an unsuccessful implant can significantly damage your jaw bone. Be sure to thoroughly investigate potential implant dentists and be wary when choosing one. Here are some questions you may want to ask to determine the competency of your dentist.

Beware of non legitimate specialists. The only specialty that is recognized by the American Dental Association and that deals with restoring dental implants is the specialty of "Prosthodontics". Other so-called specialists are not legitimately recognized specialties. "cosmetic Dentist", "implantologist"implant specialist" or any other such titles are not specialties that are recognized by the American Dental Association. All the dentists at the Center for Prosthetic Dentistry are "Prosthodontists", and prosthodontics is a recognized specialty, and is the only specialty that deals with implant restorations.



All too often, a few weekend courses, or an implant company sponsored course is all the training that a dentist received before starting in implant dentistry. The prosthodontists at the Center for Prosthetic Dentistry have undergone 3 years of extensive training after graduating from dental school to become prosthodontists. In fact, less than 2% of all dentists are prosthodontists. When it comes to implant dentistry, they are the dentists recommended by other dentists.



Be careful not to take the risk of having an implant procedure at a cheaper price from an unqualified dentist. Instead, carefully choose an implant dentist who is dedicated to quality care, individualized services and an understanding of your needs and desires. This person should take time to consider your specific condition and help you develop a treatment plan that will meet your goals and enhance your oral health. There are literally hundreds of different implant companies, and every year some of them disappear. If you were to have an implant that no longer exists, you may find yourself without any replacement parts to maintain your dental implant.



All too often a dentist is trained in one specific implant system, which may not be the best choice in your situation. At the Center for Prosthetic Dentistry, we work with a number of different systems and will choose the system that will serve you best. However, we will only work with reputable implant companies, and will never use a system that does not have long term track record.



The prosthodontists at the Center for Prosthetic Dentistry are all faculty members at the USC School of Dentistry and have presented seminars and courses on implant dentistry throughout the US and the World. They have a vast knowledge of dental implants, and are considered experts in implant dentistry.
When you hear... you forget. When you see... you remember. When you do... you understand. When you teach it…you master it!!!



Publishing articles for other dentist's review is a sure sign of confidence. The Prosthodontists at the Center for Prosthetic Dentistry have published more than 100 articles in scientific journals.



There is a very steep learning curve with dental implants, and it takes a long time to be proficient in planning and restoring dental implants. The Prosthodontists at the Center for Prosthetic Dentistry have a combined implant experience of more than 50 years. In all likelihood they have encountered a situation similar to yours, and know how to determine the best course of treatment.



It is crucial that there is clear communication between your dentist and the laboratory that will ultimately fabricate your implant restorations. At the Center for Prosthetic Dentistry we have a full service dental laboratory that is equipped with some of the most advanced equipment available, and your work is completed under the direct supervision of your prosthodontist.



About 30% of the treatment we render at the Center for Prosthetic Dentistry is to correct mistakes made in other offices. It is always easier and less expensive to have the right treatment the first time. Having a vast knowledge about dental implants helps us foresee and prevent future complications.



Obviously, if your dentist is not set up to treat implants routinely, they will not be enjoying the treatment. The prosthodontists at the Center for Prosthetic Dentistry are fully set up to provide implant dentistry. For them, implant dentistry is an everyday procedure. Most likely, there is no situation that they have not encountered. They teach implant dentistry, they write about implant dentistry, and they love working with dental implants.